Naturopathic Doula Care Services
The reason for having a Doula at your birth is to help make the experience a comfortable and joyful one for you and your baby. She provides physical and emotional support throughout pregnancy, labour, birth and postpartum.  A Doula will provide information ahead of time so that parents can make informed choices for their birth plan and feel a sense of empowerment.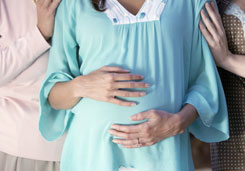 Having a Doula present at your birth decreases rates of medical intervention substantially (such as oxytocin, epidurals and C-sections). Women report feeling a sense of accomplishment and have better overall impression of their birth experience with a Doula at their side.
A Doula works along with the women's partner and their primary health care provider (midwife, OB or family doctor). She does not "catch" the baby. She is there solely to support the parents or parent to be. Naturopathic Doulas can provide support such as acupuncture or acupressure, homeopathic remedies, suggestions for position changes during labour, provide emotional support for the woman, provide massage and many more.
What do your Doula services include?
One complimentary "meet and greet"
Two prenatal appointments
Attendance at time of birth
One postnatal appointment
Kirsten Almon, ND, Tiffany Wyse, ND, Olivia Chubey ND, and Aisling Lanigan, ND provide Naturopathic Doula services at Erin Mills Optimum Health.
Please contact the clinic for more details.
We are so honoured to be a supportive presence for pregnant and birthing women in our community.
We want to spread the word on how wonderful doula care is and how it significantly decreases intervention while in labour and empowers women in their birth experience.
This is an adorable and informative video on doula care from a doula in Singapore:
For more information on how an ND can support you in fertililty, pregnancy and birth please contact our clinic today
"If Doula were a drug, it would be unethical not to use it" – Kennel
If you are pregnant, this is a great link to a documentary that is free to watch on youtube. The former talk show host, Ricky Lake together with her producer star in this inside look at birth in the U.S.
Many of the statistics they talk about still hold even though it was released years ago. Unfortunately the C-section rate is still high in North America (approximately 30-40%). The WHO has stated that a rate of above 15% poses risk to maternal mortality.
Part of what a doula offers is continual support during the birth process–this in turn helps to avoid interventions such as pitocin and C-sections.
In the documentary, you will see some wonderful doula support. It is also very entertaining and informative.  Check it out:
 Pregnant and have questions on how we can support you and your partner?
Back