Five Myths About Chiropractic Care For Children
There was an article in the Canadian Chiropractor magazine in May 2015 that I would like to share with my patients in Mississauga.  The article is titled "Five myths about care for children" and highlights and responds to the myths associated with Chiropractic care for children.
The five myths that they highlight regarding Chiropractic for Children are:
Chiropractic care for children is new
Children don't need Chiropractic care
Chiropractors use the same techniques on children as adults
There are no real experts in Chiropractic care for children
Chiropractors don't collaborate with pediatricians and medical doctors
The last paragraph highlights it all regarding Chiropractic for Children:
"Chiropractic care for kids is not new. Children benefit from chiropractic care. Techniques for children are safe and nowhere near as forceful as they may be for adults. Many [Chiropractors] are qualified experts, and many child-focused chiropractors establish strong connections with medical doctors. The truth is, [chiropractors] can and do share the benefits of their profession with patients across the entire age spectrum."
 Where is a great resource to learn more about Chiropractic Care for kids?
The International Chiropractic Pediatric Association (ICPA) is a great resource to learn more about Chiropractic Care for kids.  They have an excellent website and have great resources that I use as a Chiropractor as well.  The Pathways to Family Wellness magazine is also a great resource for parents looking for "Holistic Insights, Empowering Resources."
If you have any questions that you'd like to discuss with me, I'd be able to answer them from a Chiropractor's perspective.
Dr. Callum Peever
---
Rolling Over Already! With Help From Child Chiropractors
My son is now four months old and babbling up a storm! He surprised us (and himself) the other day and rolled over! I thought it must have been a fluke, there is NO way he should be growing up this fast, but sure enough he has continued to roll and is very proud of himself.
After overcoming my initial shock I knew I had to call Erin Mills Optimum Health and have him seen by one of the four child Chiropractors in the clinic. Since the adjustment he is able to hold his head up longer and steadier and continues to roll with ease.
Although I work here (and might be slightly biased) I love the care the whole family has received at the clinic. This isn't a stuffy clinic but a full Chiropractic wellness centre located in Mississauga. The doctors are all trained child Chiropractors and have taken the time to educate me as a new mom what milestones we should be looking for to book in Chiropractic adjustments in addition to the routine maintenance.
Yvonne, new Mom and part of the Front Desk Staff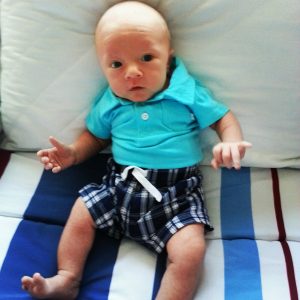 ---
Kids can accomplish amazing things – Chiropractic can help
My brother recently sent me a video of a 1.5 year old child skiing that is quite amazing.
Another video that shows how some amazing things kids can achieve is professional wakeboarder Parks Bonifay waterskiing at 6 months+ 29 days old.

Parks Bonifay Documentary – Wake Teaser by VASentertainment
These feats are incredible to see, but would not be possible if a child was progressing through life slowly – unable to balance or turn their heads properly, unable to coordinate their movements. By checking infants and children throughout their life a Chiropractor can help children adjust to challenges that they are facing immediately.
This helps kids express themselves and accomplish incredible things at such an early age, if that is what they want to do (and their parents). And as children are learning new skills, it is even more important to get them checked regularly by a Chiropractor. This helps keep their spine and nerve system in check along the way. This can all be done naturally through gentle and specific Chiropractic adjustments.
What will your children accomplish?