This story of Sudden Hearing Loss that recovered after Chiropractic care was shared to us by one of our Mississauga patients.  It is a very encouraging story for those that are experiencing a new scary diagnosis. Enjoy:
I woke up on a Saturday to discover that I was having difficulty hearing from one ear.  On the same day my Mother had a falling accident and was rushed to the hospital that day.  As a result, I did not focus on getting medical help until the Wed. I visited the walk-in clinic where they determined I did not have any blockage or damage to my ear drum but immediately identified my case as am emergency and contacted an Ear Nose & Throat specialist.  She prescribed a 2 week prescription of steroids and told me I most likely had a condition called Sudden Sensorineural Hearing Loss (SSHL). I began taking the medication and in the week following I was given a hearing test where it was determined I had what they called a "Dead Ear"  they said there was no blockage or injury to the ear drum but that my ear was no longer functioning at all (nerve related).  In the 2nd week I sought a second opinion and visited a 2nd ENT specialist who conducted all the same tests and concluded the same thing but added that they also wanted to rule out the possibility of a brain tumor.  As you would expect this concerned me so instead of being on the MRI wait list for several months I drove to the U.S to obtain the brain MRI in the 3rd week of the onset of my hearing loss.

During the 4th week I visited the specialist and confirmed I did not have a brain tumor and they did not see anything on my MRI results.  I had also concluded the steroid treatment (2 weeks prior) and the hearing test confirmed no change from their 'dead ear" diagnosis.  The specialist told me that this is a common occurrence (SSHL) and that there was nothing more that could be done to treat me.

It was at this time almost 4 weeks from the loss of hearing that I visited Dr. Cote and informed her of what had transpired.  She located a misalignment in my jaw that she began adjusting a few visits a week.  At first there was no change to my earing condition but approx. 2 months of regular adjustments I began to have moments where I could hear crackling (almost like an un tuned radio) at random moments. Over the course of approx. 2 weeks this continued to happen more and more and  it reached a point where I was very sensitive to noise and sound seemed very loud to me.  During this time I had regular appointments to have hearing tests and the charts started to show a slow upward trend in improvement until finally my current hearing tests show I have above average hearing for my age.  The ENT specialist stated that she has seen many cases of SSHL and only in very rare cases does anyone recover and if they do they may gain a small level of hearing back but that she has never seen a case like mine where I seemingly am fully recovered.

Overall while I do not remember exact dates over the course of 4 months I recovered fully.  I strongly believe this is directly attributable to Dr. Cote and her care.
Chiropractic Patient,
Sheila M.
Hearing Loss recovery after chiropractic adjustments?
This story by Shelia is not as rare as you may think.  The first Chiropractic adjustment on September 18th, 1895 was actually performed by DD Palmer on Harvey Lillard with the intent to restore Harvey Lillard's hearing.
Harvey Lillard had lost his hearing after hearing a "pop" in his back.  His hearing loss lasted 17 years until he connected with DD Palmer.  DD Palmer was able to rationalize that if the hearing loss started after something in the spine moved, then moving the spine into the proper place should restore the man's hearing.  After convincing Harvey to allow him to test his theory on his deafness, he located a bone that appeared to be out of place.  DD Palmer then specifically moved that bone with the intent of restoring Harvey's hearing and amazingly it did – and Chiropractic was born.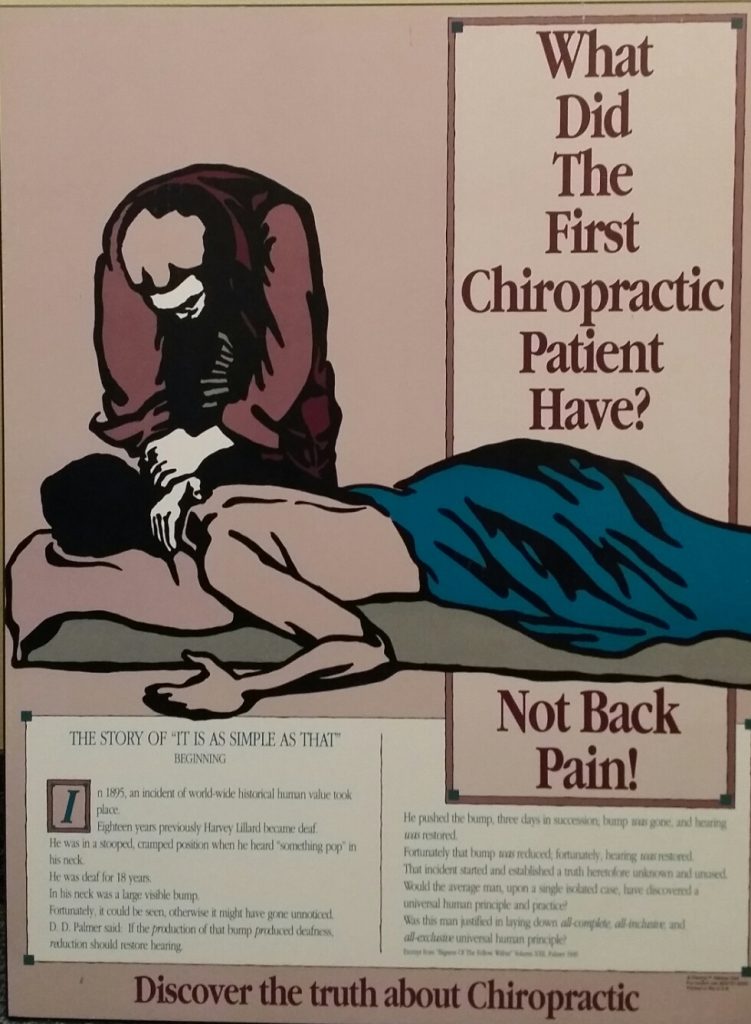 Here are some great Dynamic Chiropractic Articles that are on this same topic:
The Harvey Lillard Story: Fact or Myth?
Can Chiropractic Improve Hearing?
If you are suffering with hearing loss, a chiropractic check up to know if your spine and spinal nerves are subluxated which may be impacting your hearing loss is an important step for your health.  Contact us.
Another Hearing Improvement Case with Chiropractic help
Here is a 2018 case study highlighting the improvement in a child's hearing following Chiropractic care.
Resolution of Hearing Loss, Improved Speech & School Performance Following Chiropractic Management of Vertebral Subluxations in a Male Child: A Case Study in the Journal of Pediatric, Maternal & Family Health, Chiropractic 2018.