Dr. Aisling Lanigan was invited to talk on the Moms That Say F*ck podcast with Dr. Dina Kulik and Alana Kayfetz – "a no bullsh*t approach to parenting and momboss-ing." The discussion was about being a working mom but leaned towards how Dr. Aisling approaches fertility concerns with patients as a Naturopathic Doctor in Mississauga and Toronto.

Alana Kayfetz is the CEO and founder of MomsTO, and is on a mission to bring moms together and give them a great day, revolutionizing maternity leave.
Dr. Dina Kulik is a pediatrician, pediatric emergency medicine doctor and the founder of Kidcrew. Dina provides no-nonsense child health advice.
Here is the link to the podcast: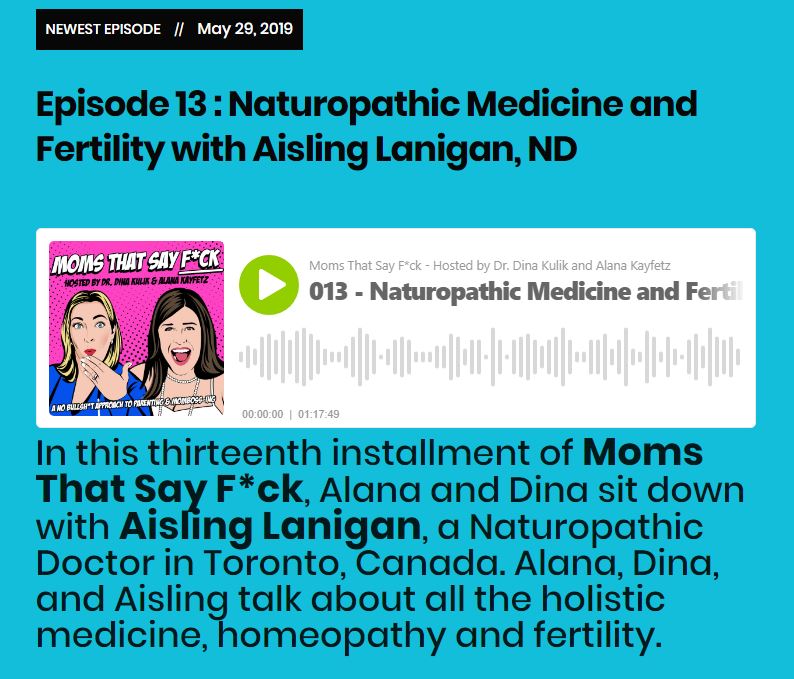 What is discussed in this podcast with Aisling Lanigan?
Dr. Aisling discusses the various components that make up her Naturopathic practice, including botanicals (plants), supplements, acupuncture, IV, and homeopathy.
The hosts were curious about the difference between homeopathy and naturopathy. Dr. Aisling mentions how homeopathy is one component that Naturopathic doctors could use when working with a patient. Homeopathy is a traditional approach to helping patients that comes from the theory of like cures like. A common homeopathic product is Arnica, which one of the hosts was familiar with. But there can be many applications of homeopathy. Homeopathy isn't the biggest component of Dr. Aisling's practice but the hosts were curious about what it is and how it is used.
Fertility concerns were discussed as well and Dr. Aisling discussed how she would approach a patient who came to her from a Naturopathic doctor's perspective. One of the hosts is a pediatrician medical doctor and was curious about how their approaches were similar and different. Including which tests and blood tests would be ordered and the natural approach to impact the hormones, specifically estrogen in many cases.
Some blogs that could grow your curiosity and knowledge of fertility include these:
CoQ10 and fertility
Ovarian reserve and fertility
Aisling also was asked her favourite supplement as a Naturopathic Doctor
Her favourite supplement was Magnesium. She discusses a few different forms of Magnesium and how they can be used in a routine to help. Listen to the podcast above to learn more.
Enjoy the podcast and be curious to ask more questions from our Mississauga Naturopathic Doctor – Dr. Aisling Lanigan.