This case study is of a 67 year old man who was suffering with neck pain, arm numbness, and a frozen shoulder (adhesive capsulitis).  The neck pain and right arm numbness had been there for 2 years and the left shoulder had been frozen for 20 years.  This Chiropractic patient regained full shoulder motion and had almost no neck pain in one month of Chiropractic care!
Imagine if he had received Chiropractic care earlier?
Imagine what his life would be like if he wasn't suffering for 20 years? 2 years?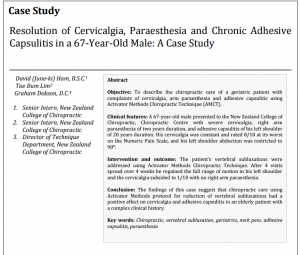 It is great to see these case studies in the new research as it highlights a real patients experience and impact on their life.  I frequently see patients in Mississauga with frozen shoulder, neck pain, and arm numbness respond well to Activator Methods Chiropractic care.  The nice thing with these case studies is that you can share the patient encounter with the World.  This particular study in the Annals of Vertebral Subluxation Research happened in New Zealand at the New Zealand College of Chiropractic, and I am sharing it with my Chiropractic patients in Mississauga – Amazing.
 What Chiropractic Technique was used in this research study?
The Chiropractic technique that was used in this study was the Activator Methods Chiropractic Technique.  This is the Chiropractic technique that I use in my Mississauga office for my patients. It is a great way to specifically adjust the spine while remaining gentle – and the results that we see are incredible!
Dr. Callum Peever – Mississauga Chiropractor at Erin Mills Optimum Health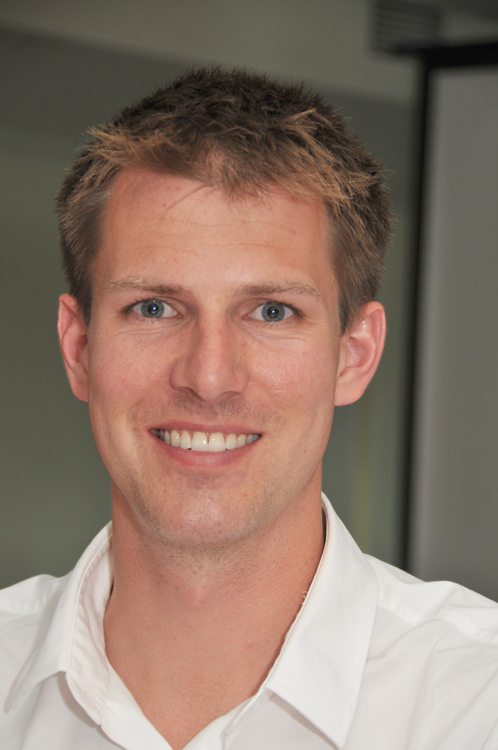 Chiropractic is a way of life for Dr. Callum Peever. He was very fortunate to experience the vitalistic and natural lifestyle of Chiropractic first hand as Dr. Ken Peever's son. Now he considers himself very lucky, as he gets to help others experience Chiropractic and live towards a longer, more comfortable and active life.
The science, art, and philosophy of Chiropractic have always intrigued Dr. Callum Peever. After studying Kinesiology at McMaster University he studied Chiropractic at the Canadian Memorial Chiropractic College in Toronto. From day one at Chiropractic College he started to master the Activator Methods Chiropractic Technique to deliver a specific Chiropractic adjustment for his patients. He has been practicing with his father at Erin Mills Optimum Health since 2010. Dr. Callum Peever considers himself a lifelong learner and is always happy to teach others in his clinic through talks and discussion.
As the active President of the Halton Peel Chiropractic Society and the past Director of the Halton Urban Core Community Health Centre Chiropractic Clinic, Dr. Callum's passion for education has also led him to share his knowledge with other Chiropractors to facilitate their proficiency with the Activator Technique in seminars for Activator Methods International.
Dr. Callum Peever enjoys being active and participates in many individual and team sports. Having competed in wakeboarding, hockey, running, and biking, he has a keen understanding of the commitment and energy that must be put in to accomplish goals and the impressive ability of the body to recover after set backs in health. Lately he has put his energy back into running. He also uses this energy to update the office blog and literature with information about natural health, Chiropractic, and Erin Mills Optimum Health. When he is not at the office, Dr. Callum enjoys spending time with his wife, Laura, and two children, Ava and Brooks.