Optimizing Insemination and IVF with Acupuncture
We see many women and couples who work with assisted reproductive clinics in their journey towards getting pregnant.
What we want for all of our patients who are in this process is to optimize their DNA and Qi:  As a Naturopathic Doctor, I help with this through the use of supplements and herbs for the DNA and acupuncture for the patient's Qi.
How does Acupuncture optimize the IVF process?
*  Enhances blood flow to nourish the developing follicles
*  Supports the estrogen and progesterone phases of the cycle
*  Is instrumental in keeping stress hormones low so that they do not interfere with reproductive hormones
*  helps to prevent early miscarriage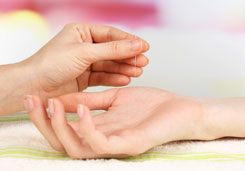 How often are the acupuncture treatments prescribed?
Everyone is different, however the most common recommendation is to have an acupuncture treatment 1/week.
For more information or to make an appointment with us in Mississauga, contact us today
Dr. Kirsten Almon ND