A Fresh Perspective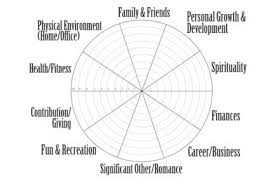 A Fresh Perspective
"The real voyage of discovery consists not in seeking new lands but in seeing with new eyes." – Marcel Proust
This is a great exercise I often ask my patients to do when we are in a visit. I call it the "Balance Circle". It's a tool to assess how balanced you are in various areas of your life and how these contribute to your health.
For example, one is called 'physical environment' – this is with respect to your home and work environment. If you were renovating or had a 'toxic' environment at work you would only fill this out 10-20% full. Alternatively, if you home and work environments were clean and healthy, you could fill it the pie 80-100% full.
So the idea is you look at all of the pieces of the pie and fill them in from the centre outwards. At the end you see how balanced you are from one to the next. It also becomes quite obviously which areas in your life need more attention and focus.
I had a patient do this recently and realize that she had made absolutely no time or effort into having fun in her schedule. Life is too short not to get out and have a good time! She agreed that the lack of recreation influenced her overall wellness and quality of life.
Usually when I bring out my prescription pad I am writing reminders about supplements, new recipes or dietary advice…this time however it was a reminder to schedule in some fun!
How is your "Balance Circle"?
For more information on how to keep you and your family healthy, I can help in a couple of ways:
1. Work with me one-on-one
If you would like to work directly with me and radically improve your energy-just send us a quick email erinmillshealth@bellnet.ca and we can set you up with a Naturopathic initial consult.
2. Test drive my services
Email us at erinmillshealth@bellnet.ca and we can set you up with a complimentary 15 minute consult. 
Sincerely,
Dr. Kirsten Almon ND, CHt
Dr. Kirsten Almon
Dr. Kirsten Almon has a Naturopathic Family Practice in Mississauga at Erin Mills Optimum Health with special interest and training in fertility (helping couples conceive naturally as well as improving outcomes for couples using assisted reproductive technology), pregnancy, birth, postpartum and pediatric care. She loves seeing children for "naturopathic well child visits" and consults on common issues such as food introduction, how to avoid colds, flus and ear infections.  Dr. Almon is the co-author and instructor of a Doula course specifically designed for Naturopathic Doctors and teaches across Canada.