Acupuncture Mississauga
Acupuncture in Mississauga
"Stick me with Needles!"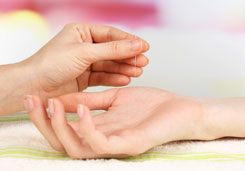 The concept of acupuncture is based on the concept of yin and yang and energy moving through channels called meridians.  When energy or "qi" is not moving freely through these meridians, vitality may be weakened or blocked. This can manifest in many ways; infertility, difficult or stalled labour and postpartum depression for example. The strategies used to 'unblock' these channels are to needle, add pressure or use moxibustion over specific points on the body. Once the technique is administered, it allows the body to overcome the blockage and i.e. enhance fertility, quicken and improve contractions in stalled labour and improve mood.
What can Acupuncture be used to help?
Acupuncture can be very effective for the following:
Low back pain
Constipation
Insomnia
Stress and anxiety
Headaches and migraines
Tennis elbow
Recovery from injury in sport (sprained ankle, torn rotator cuff)
Menopausal symptoms such as hot flashes and night sweats
Fertility and labour
Can acupuncture assist with fertility?
Acupuncture has a long history of use in the treatment of promoting healthy menstrual cycles in women to enhance fertility.
With respect to treating a patient with concerns of fertility, the May 2006 issue of the medical journal Fertility and Sterility presents several new studies that confirm the efficacy of acupuncture as an aid to In vitro fertilization (IVF).
Not only do needles work on an energetic level, it has also been shown to change chemicals in the brain, aiding in labour and postpartum care:
"There is evidence that acupuncture influences the production of and distribution of a great many neurotransmitters and neuromodulators, and that this in turn alters the perception of pain."

-David Eisenberg, M.D., Clinical Research Fellow at Harvard Medical School
The following fertility concerns have been shown to respond favourably to acupuncture treatments:
Man and Female Infertility
Aids in turning a Breech Baby
Post dates Pregnancy to Initiate Labour
Stalled Labour
Painful Labour
Mastitis
Amenorrhea
Libido Enhancement
Painful periods
Book in today for a visit to try acupuncture!
Dr. Kirsten Almon ND, Doula in Mississauga at Erin Mills Optimum Health
Dr. Kirsten Almon
Dr. Kirsten Almon has a Naturopathic Family Practice in Mississauga at Erin Mills Optimum Health with special interest and training in fertility (helping couples conceive naturally as well as improving outcomes for couples using assisted reproductive technology), pregnancy, birth, postpartum and pediatric care. She loves seeing children for "naturopathic well child visits" and consults on common issues such as food introduction, how to avoid colds, flus and ear infections.  Dr. Almon is the co-author and instructor of a Doula course specifically designed for Naturopathic Doctors and teaches across Canada.