Chiropractic from Head to Toe: THE HEAD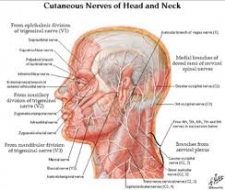 TMJ Syndrome and Headaches
Two of the most common conditions involving the head that Chiropractors are recruited to treat are: TMJ syndrome and headaches.
TMJ Syndrome and Chiropractic
The TMJ is where the jaw bone connects to the head. It is also called the temporomandibular joint. Since it is a moveable, functional structure, any misalignment or restriction in this joint can cause pain in and around the jaw, ear or head. Causes of TMJ pain may include: poor alignment of the teeth, grinding or clenching the jaw while sleeping, excessive gum-chewing, etc.
Chiropractic Treatment of Temporomandibular Dysfunction: A Retrospective Case Series.
This 2015 paper from The Journal of Chiropractic Medicine discussing the Activator Chiropractic protocol for assessing and adjusting the TMJ to improve TMD. The success we see in the office regarding TMD matches that seen in this research.
Introduction
"Temporomandibular dysfunction (TMD) is a set of conditions affecting the temporomandibular joint (TMJ) and/or the surrounding masticatory musculature. Temporomandibular joint and muscle disorders are a group of conditions creating pain and dysfunction in jaw joint and the muscles controlling jaw movement."
"Temporomandibular dysfunction may be present as 1 or more of the following symptoms: (1) pain in the jaw joint or in the muscles of mastication; (2) audible popping, clicking, or crepitus accompanying jaw movement; and (3) aberrant movement upon opening or closing of the jaw joint."
Sometimes jaw problems can even create a buzzing or tinnitus in the ear!
Headaches
Another common condition affecting the head is the collection of symptoms referred to as "headaches": including migraines, tension-type headaches, cervicogenic headaches, cluster headaches and so on.
If you have any symptoms that resemble TMJ pain or headaches, remember to consult your Chiropractor.
About Erin Mills Optimum Health
Erin Mills Optimum Health is a true wellness centre with team of naturopathic chiropractors & specialists working together to provide the optimum health experience. Our clinic, which has been continually enhancing and expanding since 1977, has 4 Doctors of Chiropractic, 2 Naturopathic Doctors, a Chiropodist/Foot Doctor, 3 Registered Massage Therapists and a Reflexologist.
To Read The Full Article Click On The Link Below.