Common Exercise Mistakes (& How to Avoid Them)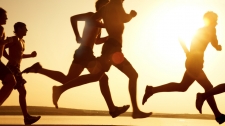 Common Exercise Mistakes
Exercise is an important ritual that keeps you strong, healthy and ready to meet the challenges of everyday life. When approached and performed properly, exercise can help protect you from many kinds of health problems, everything from osteoporosis to high blood pressure to depression. It is easy to overdo it, though. According to a study published in the journal Research Quarterly for Exercise & Sport, sport and exercise related injury represents a significant portion of all injuries sustained, especially among males.
It's important to understand what constitutes a safe and effective approach to exercise and how you can avoid exercise-related injuries or problems. Your Chiropractor understands the physical demands exercise places on your body and he or she can help you develop the best possible exercise plan for you. Your Chiropractor can also counsel you on how to avoid the common exercise mistakes discussed in this edition of The Wellness Express. It is important to always discuss your exercise plans with your Chiropractor before starting your training program.
Mistake # 1: Doing Too Much Too Soon
Doing too much too soon is one of the most common exercise mistakes made by exercise newcomers and veterans alike. … When it comes to exercise, less, in some cases, is more.  Building your fitness gradually and progressively, participation in exercise classes and getting a fitness tutorial from a certified expert – such as your Chiropractor – are three ways to reduce your chances of exercise-related injuries or problems, states the Mayo Clinic.
Mistake # 2: Performing Injurious Exercises
Not all exercises are safe. Some exercises, including exercises that have been part of common exercises routines for decades, may be injurious and increase your likelihood of muscle or ligament damage. Other exercises may be safe only when performed with flawless technique.
Learn some proper exercises to stabilize your core muscles regarding back pain.
To Read The Full Article…And The Final Two Mistakes Please Click On The Link Below.