ELBOW PAIN: Do you play golf or tennis?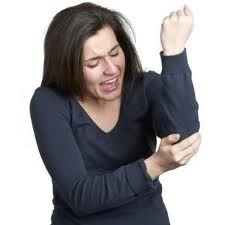 ELBOW PAIN
When painful symptoms show up in your elbow, one of the first things your Chiropractor will ask is whether you play tennis or golf. Why do you have elbow pain?
Either situation will lead to inflammation and pain at the site where the tendons attach to the bone (diagnosis: tendinitis). As a result, you may feel some swelling and tenderness in the area of the injury. The pain is usually dull, achy, and constant, but if you try to grip something with your hand, it usually will become more sharp and localized. The first thing you should do is intermittently apply ice to reduce the inflammation. In addition, rest and avoiding any activity that aggravates the elbow pain is recommended.
Sometimes, pain in the elbow is not related to stress and strain of tendons – instead, an irritation of nerves that pass by the elbow could be the cause of your discomfort.  The two main nerves that travel through this area are the ulnar and median nerves.
Chiropractic adjustments are often very helpful in reducing symptoms that spread down the arm, sometimes in as little as one or two treatments! Of course, you should always have your spine checked regularly, in an effort to prevent symptoms, too.
Luckily, your Chiropractor is a joint specialist!  After reviewing the presentation of your symptoms, and all the possible causes, your Chiropractor will determine the best course of action to alleviate your pain.
About Erin Mills Optimum Health
Erin Mills Optimum Health is a true wellness centre which has been continually enhancing and expanding since 1977. Our team of naturopathic chiropractors & specialists working together to provide the optimum health experience.
To Read The Full Article… Click On The Link Below.