How to pick a Doula for your birth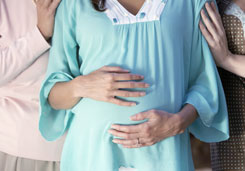 Taking the time to pick a doula for your birth is an important step in building the team you want to be present at your labour.
Here are some tips and ideas from 'babylist' on what you can ask your Naturopathic doula when you meet:

https://www.babylist.com/hello-baby/doula-interview-questions
After all is said and done, how you feel during and after the meet-and-greet is just as important as the answers to all of the questions. For instance:
Was the Naturopathic Doula able to create an environment where you felt like you could be yourself and comfortable?
Did you feel rushed in your questions?
Did it feel like a good "fit"?
 
Our doulas at Erin Mills Optimum health are also Naturopathic Doctors and all have years of experience with supporting moms in the Mississauga Area!
We offer complimentary 15-minute consults for our mama's to be when looking for a doula for their birth.
Please contact us today for more information!
Our Doulas: Kirsten Almon ND, Aisling Lanigan ND, and Kajal Chohan ND
Read more about Doulas:
A Doula's role before, during, and after Birth
Naturopathic Doula Helped Through Birth
Mothering the mother with Doula care in Mississauga
Dr. Kirsten Almon
Dr. Kirsten Almon has a Naturopathic Family Practice in Mississauga at Erin Mills Optimum Health with special interest and training in fertility (helping couples conceive naturally as well as improving outcomes for couples using assisted reproductive technology), pregnancy, birth, postpartum and pediatric care. She loves seeing children for "naturopathic well child visits" and consults on common issues such as food introduction, how to avoid colds, flus and ear infections.  Dr. Almon is the co-author and instructor of a Doula course specifically designed for Naturopathic Doctors and teaches across Canada.