Long Weekend Checklist From Our Mississauga Naturopathic Doctors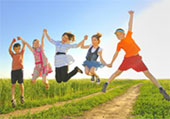 Warmer weather is here! FIngers are crossed for sunny mild long weekend coming up!
Here is a check list of naturopathic tips you can use this weekend and when camping all summer. Enjoy!
May 24 Weekend Checklist from our Naturopaths in Mississauga  
BUG REPELLANT:
info on DEET (destroys mosquito netting, why spray on self?)
make your own: into 8 ounces carrier oil (olive, calendula) add the 10 drops of the following: thyme oil, lavender, mint, cedar.
FIRST AID KIT:
°         1.  Arnica 30C:  for bruising from a fall or other trauma.
°         2.  Ledum 30C:  for slivers and other puncture wounds.
°         3.  Rescue remedy:  1-2 sprays or drops if accident or in stress.
°         4.  Apis 30C:  for insect sting with swelling. Take 1 pellet 3x/day
°         5.  Hypericum 30C:  for nerve pain.
°         6.  Aloe vera gel:  topically for burns.
°         7.  Band-aids
°         8.  EmergenC packets: electrolyte replacement. Add to 10 ounces water
°         9.  Cold pack
°         10.  Tweezers:  to remove slivers.
°         11.  Traumeel or Arnica cream: apply topically to cuts, burns, bruises.
°         12.  Neem oil/soap: itching due to bites.
INSECT BITES/BLEEDING:
Plantain: grows around on the ground. Is a flat curved leaf. Leaf can be chewed and placed on insect bite to help with swelling.
HEALTHFUL SNACKS:
rice crackers, cakes
almond/pumpkin seed butter
dried unsulphured mango, apple, banana, dates, prunes
bean dips prepared ahead of time
home-made granola with protein powder and rice/soy/almond milk
greens powdered drink (just add water)
ENVIRONMENTAL ALLERGIES?
Quercitin: high in onions, garlic, good natural anti-histamine
Vitamin C crystals: take ¼ teaspoon in water every hour (beginning prior to camping=more effective). Caution in those with hemochromatosis or "iron overload".
Dr. Kirsten Almon
Dr. Kirsten Almon has a Naturopathic Family Practice in Mississauga at Erin Mills Optimum Health with special interest and training in fertility (helping couples conceive naturally as well as improving outcomes for couples using assisted reproductive technology), pregnancy, birth, postpartum and pediatric care. She loves seeing children for "naturopathic well child visits" and consults on common issues such as food introduction, how to avoid colds, flus and ear infections.  Dr. Almon is the co-author and instructor of a Doula course specifically designed for Naturopathic Doctors and teaches across Canada.