The Health Benefits of Stretching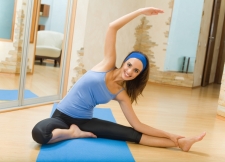 The Health Benefits of Stretching

"Have you done your stretches?"
You probably heat this question all the time from your Chiropractor. But why is stretching so important to your health? It all has to do with proper alignment in the musculoskeletal system.
The skeletal system is a static structure on its own. However, when you add muscles you create a dynamic, functional musculoskeletal system capable of performing work, maintaining an upright posture, transporting your body from one place to another, and allowing for personal expression using language an gestures.
The length and tension of a muscle determines its capacity for strength and movement. The variable length of a muscle defines the functional range of motion of the joint it crosses, and its capacity to create tension allows it to perform work for you. Although a certain degree of tension can create imbalance, functional restrictions and/or pain.
Tight muscles located in your spine may contribute to vertebral subluxations. Misalignment of the vertebrae is particularly damaging, as this can cause irritation of the nerves exiting the spine. This can further disturb notmal muscle function, leading to more symptoms. Thankfully, Chiropractic adjustments are particularly effictive at reducing nerve irritation caused by spinal joint dysfunction!
Ask your Chiropractor what stretching exercises would be best for you.
To Read The Full Article… Click On The Link Below.
Stretches to Optimize Back Health
The Ontario Chiropractic Association helped release a YouTube video highlighting the importance of stretching for back health and body.  Check out the video below with No Tummy Mommy, who is a fitness and lifestyle blogger who shares health tips for moms with the assistance from her little one.