Weekend breakfast idea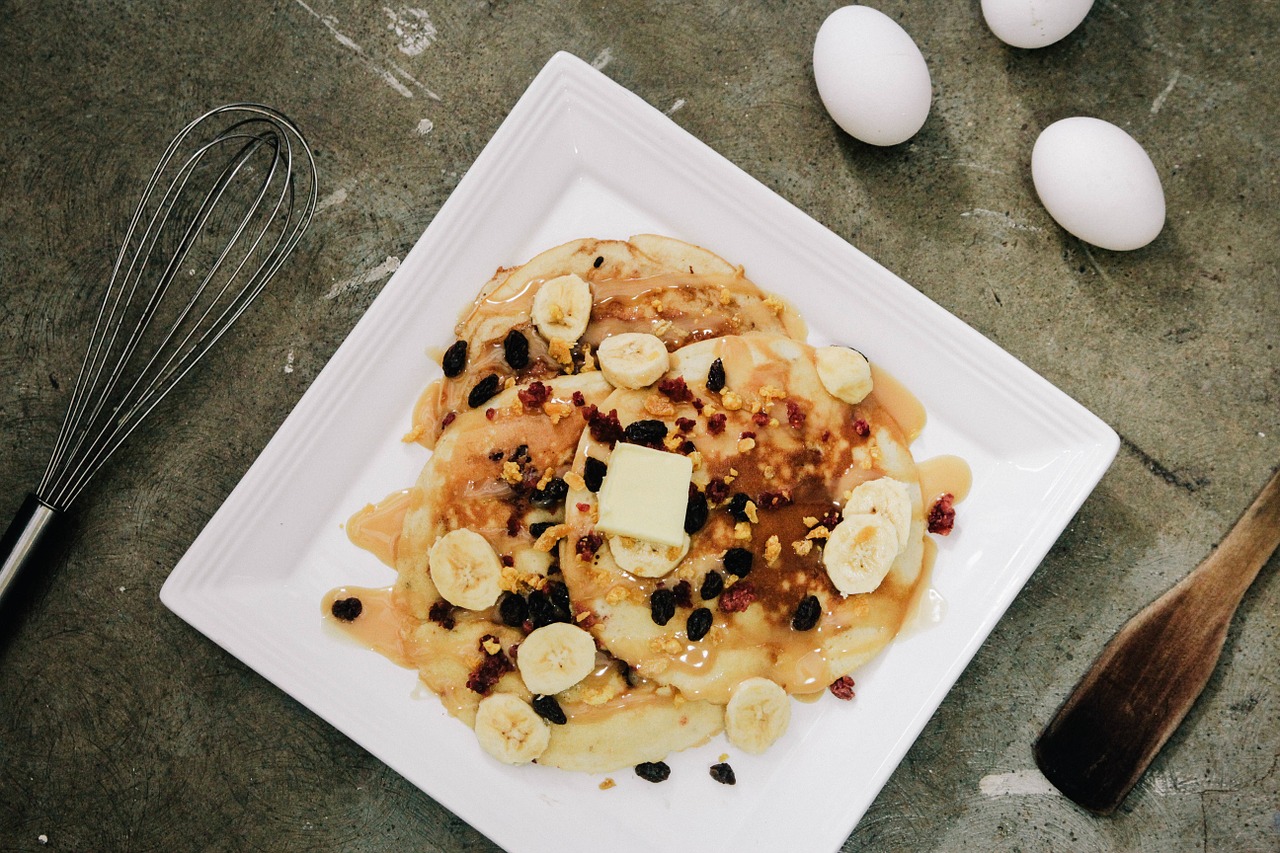 Weekend breakfast idea
On Saturday mornings at my house, my husband gets up early with the kids and they make a big breakfast. Fresh farm eggs, butcher bacon and usually pancakes! All of those aromas coupled with the smell of fresh coffee is a wonderful way to wake up–as opposed to my daughter surprising us with a crack-of-dawn dance party in our bedroom!
Here is a recipe for vegan banana pancakes. They are delicious and kid-approved!:
Banana buckwheat pancakes
o    1 cup buckwheat flour
o    1 tbsp agave nectar
o    1 cup unsweetened coconut milk
o    1 ripe banana, mashed
o    2 tbsp ground flax
o    1 tsp baking powder
o    1 tsp baking soda
o    ⅛ tsp pink Himalayan salt
o    Coconut oil, for the skillet
o    Walnuts, banana slices and maple syrup, to serve
In a large bowl, mix the buckwheat flour, ground flax, salt, baking powder and baking soda. Add mashed banana, coconut milk and agave syrup to the dry ingredients and mix to combine, until you obtain a thick but runny batter. Grease a cast-iron skillet and heat over medium heat. Scoop ¼ cup batter into the skillet and cook until little bubbles appear on the surface (about two minutes). Flip over and cook for two more minutes.  Before serving, top with banana slices, walnuts and a drizzle of local maple syrup.
Enjoy!!
For more information on how to keep you and your family healthy, I can help in a couple of ways:
1. Work with me one-on-one
If you would like to work directly with me and radically improve your energy-just send us a quick email erinmillshealth@bellnet.ca and we can set you up with a Naturopathic Initial Consult.
2. Test drive my services
Email us at erinmillshealth@bellnet.ca and we can set you up with a complimentary 15 minute consult
Sincerely,
Kirsten Almon ND
and the Erin Mills Optimum Health team
(905) 828-2014
Dr. Kirsten Almon
Dr. Kirsten Almon has a Naturopathic Family Practice in Mississauga at Erin Mills Optimum Health with special interest and training in fertility (helping couples conceive naturally as well as improving outcomes for couples using assisted reproductive technology), pregnancy, birth, postpartum and pediatric care. She loves seeing children for "naturopathic well child visits" and consults on common issues such as food introduction, how to avoid colds, flus and ear infections.  Dr. Almon is the co-author and instructor of a Doula course specifically designed for Naturopathic Doctors and teaches across Canada.